The butchery courses at Spitting Pig Wales is always a noisy affair, for some reason a group of males (girls are allowed honest!) getting together in a chilled room to convert a pig carcass into chops, joints, sausages & bacon – the volume of chatter always ends up increasing! Still it's a sign everybody is enjoying themselves – some people start off a little trepid about the thought of cutting up a pig, others just dive in headfirst. For the vast majority of people they've all eaten pork chops, tucked into to a slow cooked boneless shoulder of pork, eaten sausages of 'varying' quality. Many have sampled the delights from a Hog Roast – the amazingly succulent tender pork, slow roasted in a specialist Hog Roasting Machine. However have you ever wondered how easy it would be if you can cut your own chops, debone that pork leg and make a gammon steak!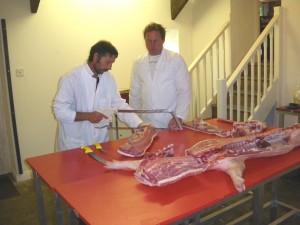 Well the butchery courses at Spitting Pig Wales can show you how – a day long course will see you learn important knife skills, how to cut a half pig up into the primal cuts then refine this to include all the major retail cuts.
The next course will be running Friday 20th March 2015The real pinnacle of the day comes when we make sausages, all by hand, even linking them into 'threes' – the volume definitely increases during this part.  Let not forget the serious part – curing the pork into bacon, you will be shown how to make delicious home cured bacon!!  Everybodies favourite part.