The arid summer we have had so far may not be great for farmers, but it has done wonders for UK wine producers, including James, the owner of a local vineyard who the Hog Roast Pembrokeshire team met recently. British wine has never been hugely popular and the production of it is fraught with difficulties, not least of which it the climate. But the Mediterranean -style weather we have been subjected to recently, has made James's grapes flourish! For him, that means a massive increase in his usual output, so he decided to host an event to promote his product and the virtues of British-made wine in general!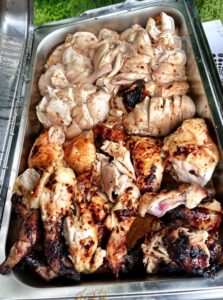 James's plan was to invite local restauranteurs and publicans to his premises, to show them his production methods and let them sample some of his wines for themselves in the hope that he could lure them away from their usual suppliers! He wanted some great food to seal the deal, and as he decided to host his event in his vineyard itself, so his potential new clients could see first hand the quality of James's produce, he needed a catering company who could provide that great food outdoors. He immediately thought of Hog Roast Pembrokeshire, as he knew by our sterling reputation that one of our corporate menus could give him everything he needed and then some!
James chose our organic whole roasted chicken, rather than a traditional hog roast, as he felt this would compliment his home-grown white wines perfectly, served alongside our freshly prepared potato salad and tangy feta skewers. With Hog Roast Pembrokeshire taking care of the food and James taking care of the sales patter, he was feeling incredibly confident about his promotional event!
His curious guests were very impressed with his set-up and the fine spread we had prepared for them. They all loved the fact that we are also firm believers in sourcing only the finest local produce, which in turn helped James to sway them towards purchasing his wine to sell in their own restaurants and pubs! The winemaker made a massive step towards increasing his client base, and he thanked us (and of course the weather!) for the part we played in helping him to achieve this!