Nothing brings people together or puts people at loggerheads more than football, especially during the World Cup! This was definitely the case for Gabriella, the MD of a translation company who contacted us recently- as between them their translation and interpreting staff represented just about every country who was in the tournament! Knowing there would be 4 weeks of infighting and heated debates around the office if she didn't take swift action, Gabriella decided to organise an office party for the World Cup Final for all of her staff to come together to cheer on the winning team, regardless of who it turned out to be! Gabriella knew she needed to provide food that would make everyone happy, so after doing a bit of research and coming across Hog Roast Chepstow's diverse range of corporate menus, she immediately hired us for the big day!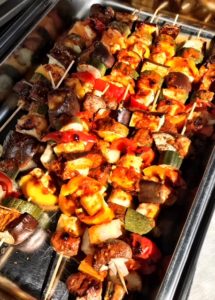 Gabriella was determined to stick to her guns and decorate with office with all of the flags from every country who had participated and not give precedence to the flags of the finalists! True to her word, Gabriella had done exactly that when we arrived on the morning of the final and had not let her Croatian and French employees try to steal the limelight! With the prospect of an exciting match and freshly prepared varied buffet to look forward to, everyone was in excellent spirits, including the Hog Roast Chepstow team, despite England falling at the final hurdle!
Gabriella had opted for organic whole roasted chicken, rather than the traditional hog roast, as this was an equally delicious but more practical option for her staff. She also chose our flavoursome veggie skewers at the meat-free option and a mixture of traditional and exotic flavoured side dishes, including creamy coleslaw, our refreshing orange salad with sesame dressing and our fragrant crispy Thai salad. We timed the serving of the food perfectly to coincide with the start of the match and we were on hand for the duration of it to make sure everyone was happy and well-fed! Gabriella's plan for her staff worked like a charm, with everyone enjoying Hog Roast Chepstow's great food, her French employees being very gracious about their victory and everyone having a great day as part of one big happy family!