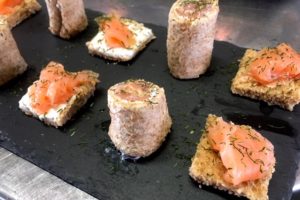 Here at Hog Roast Aberystwyth we love catering for like-minded people who think outside the box like we do and offer their patrons a totally unique experience! That's why we were so excited when we got a phone call from Mark and Emily, the owners of a new floating restaurant on the quayside. They had bought an old tour boat and with their creative vision and a lot of hard work, had totally transformed it into a swanky restaurant! For their launch party, they wanted to be able to completely focus their guests, so they decided to get outside help with the catering. They chose us because we can provide superb food that they would be proud to provide themselves and also because of our talent for catering in unusual locations!
We couldn't wait to see it for ourselves and we were very impressed when we did! We had no problem getting our super practical hog roast machine and cooking crew aboard and after a quick tour, we set up on deck and got stuck into preparing our locally-sourced pork and the smoked salmon, pate en croute and mini Thai skewer canapes the pioneering pair had selected for their guests.
As everyone began to arrive, it was clear they were all just as impressed as we were. They were also amazed to be greeted by Hog Roast Aberystwyth and our selection of delectable nibbles to get the party started! Before long, the floating restaurant was teeming with people all eager to catch a glimpse of this novel addition to the quayside eateries. Whilst we wowed everyone with the food, Mark and Emily focused on charming their potential new clientele and it was obvious everyone was hooked!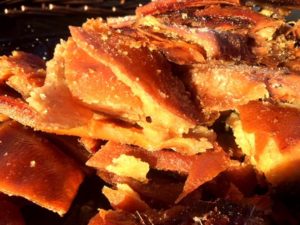 With the sun setting and our food going down a storm, it couldn't have been a more perfect evening for the big launch party. There was a buzz of excitement in the air as everyone savoured our tender pork and refreshing side salads and is was clear the couple's new venture was going to be a massive hit! Mark and Emily couldn't have asked for a better evening and they were very grateful to the Hog Roast Aberystwyth team for the part we played in making it such a huge success!