The winter weather proved true to the local forecast, a dry cold evening as the Spitting Pig Team set out to the Mynddy y Garreg Village Hall in Kidwelly. The hog roast in Kidwelly was to be a birthday surprise for Wyn from his wife Erin. The village hall was beautifully decorated and a local band was to take the stage at 8pm. Meanwhile the DJ kept the party rolling until then.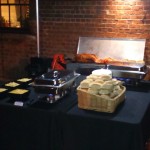 Spitting Pig Wales set up there gazebo outside the hall and the amazing smell of roasted pig greeted the guests as they arrived. We were using one of our home 'grown' free range pigs to feed the 100 guests, the combination of slow roasted pulled pork, locally sourced bread rolls (from the Llandeilo Bakery) homemade stuffing and apple sauce provided a real feast for the guests.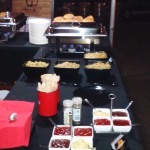 Wyn arrived at 7.30pm – the shock of the birthday surprise left him speechless – what a great evening. Spitting Pig Wales fed the 100 strong party goers, with lots coming up for 2nd & 3rd helpings of the hog roast Kidwelly. As the evening continued Spitting Pig Wales team quietly cleared up and left the party to continue into the evening. It was only a short trip back to their farm,  Ffos Yr Ewig in the Llanfynydd Valley.