Hog Roast Rhayaader antipasti platters are something to get excited about for sure! A dish which originated from Italy is displayed as a colourful masterpiece and delicious feast, an enticing invitation to the table and an intimate sharing meal amongst family and friends. The word  "antipasto" is derived from the Latin word 'anti' meaning 'before' and 'pastus' which means 'meal'. Therefore, antipasti is typically referred to as an appetiser that precedes other dishes. When you receive an antipasti platter, you are receiving a traditional first course of an Italian meal.
Typically, antipasti platters are made up of cured meats and a mixture of both hard and soft cheeses with a few exciting nibbles that complement the meats and cheeses. It is food full of flavour, texture, and colour. The food is easy to eat by manageable, bitesize pieces. They become an art of their own.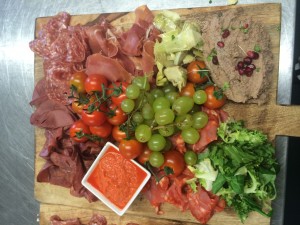 Since in Italy the antipasti boards differ depending on regions, Hog Roast Rhayaader has developed the ultimate antipasti board for their new menu 'Alfresco'. Enjoy fine cured meats such as Prosciutto, Parma Ham and Salami on slices of artisan breads topped with dreamy cheeses such as Buffalo Mozzarella, Parmagiano and Gorgonzola. These are sat on a bed of rocket, giving the board even more colour. To compliment both the meats and cheeses indulgent nibbles have been carefully selected such as mixed olives, sun-dried tomatoes, stuffed peppers, and vine leaves. Delicate dipping sauces of extra virgin olive oil and balsamic vinegar are also served with it. A board that will tantalise your tastebuds and is very pleasing to the eye, a brilliant crowd pleaser that gets people very excited.
Depending on your type of event, you can have these boards as a grazing table for people to go up and help themselves to at their leisure, on the other hand you can have them delivered to your tables for guests to enjoy as a sit-down starter.
The food will be displayed on rustic wooden boards and enjoyed on environmentally friendly bamboo plates. Hog Roast Rhayaader's antipasti platters is something you do not want to miss out on, book now!