Starting your Hog Roast Aberaeron franchise is an incredible way to kickstart your career as a caterer. Whether you have no previous catering experience, or you are looking for a change from your previous catering roles, a franchise is an excellent place to start. With advice on equipment, bookings, menus, ingredients and machines- you are supported every step of the way.
When you choose to start your franchise with Hog Roast Aberaeron, it can be nerve-wracking to plan for your first catering event. Whether you are booked for a private birthday party, a formal corporate dinner-or anything in between, it is important to be well-prepared for the day. Here is how we prepare you for your first event…
Firstly, we offer extensive training for every caterer. As a result, there is no need to have prior training within the industry, since we provide you with all the knowledge you need to cater successfully. This includes teaching you relevant health and safety regulations and industry standards. Our training prepares you for anything, which offers you reassurance and confidence in your own ability.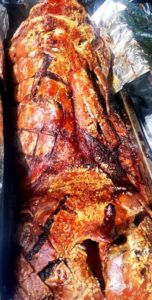 We also provide you with advice on machinery, equipment and suppliers. We sell a variety of hog roasting machines, each with different qualities and benefits. We can help you choose the right one for you, depending on the size and features you require.
As a company, we have been offering catering services for years, so we have built up a good reputation and brand name. The easiest way to thrive in the catering industry is through word of mouth, so it is excellent for you to be joining a successful and reputable company. This is especially beneficial to you since we take all of our bookings centrally and send you the jobs that are in your region. As a result, you never have to worry about making sales; providing great catering can be your biggest priority.
Are you interested in starting your own Hog Roast Aberaeron franchise? It can be a big decision, so we are on hand to answer any questions or queries you might have. Simply get in touch today to find out more!