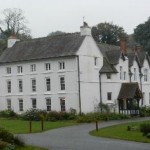 The Spitting Pig Wales team were heading West today, to the small Pembrokeshire town of Narberth. The Grove Hotel had requested a 'Hog Roast Hire' for the weekend to allow their chef's to provide a stunning feast for the wedding party that evening, with the centre piece being the slow roasted hog roast Narberth. This delightful country hotel was voted 'Best In Wales 2016' providing stunning views of the Welsh country side from the luxury rooms. The menu at the hotel is seasonal with produce from their own 'home grown' vegetable patch and meat sourced from local farmers & markets.
Spitting Pig Wales are always keen to be involved with such a quality Hotel and the 'Hire Service' they provide is second to none. On this occasion the Grove opted for the hire of the 'Hog Master' machine, the ultimate in cooking method to achieve 'pulled pork'. The pig sits in a tray inside the hog master allowing it to be cooked for 12- 14 hours so the meat 'falls off the bone' tender & succulent, producing the most amazing pulled pork!
Hiring a hog roast machine is an economical way of catering for a large number of people with minimum effort and maximum satisfaction. You can hire the machine on its own or a machine complete with an uncooked pig, already 'scored' and ready to go! – just add salt!