Birthday celebrations are some of the best events that Hog Roast Llantwit Major cater for since they are always filled with joy and happiness. They are a great way for families and friends to meet up and spend time together while celebrating the life of the birthday guest! However you choose to celebrate your birthday, we have a menu and catering style that is just right- like this menu that we recently provided for a 60th birthday…
Sarah turned 60 over the summer and enjoyed a wonderful birthday celebration surrounded by her friends and family. As her birthday approached, her daughter Alice contacted Hog Roast Llantwit Major to discuss possible menus for the event. The dishes needed to be suitable for 50 guests of all ages and be ideal for enjoying outdoors in the sunshine. After a discussion, we decided that our gourmet BBQ option was the perfect choice to go for!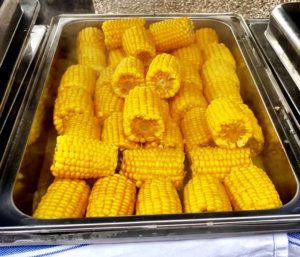 On the day of the event, our catering team arrived early at Alice's home to set up our catering station in the back garden. The sun was shining and the weather was ideal for outdoor catering. We began by grilling the main dishes, including succulent sausages, British beef burgers, marinated chicken kebabs, halloumi and vegetable skewers, and BBQ spareribs. Alongside the mains, we also prepared homemade chips, corn cobbettes, crunchy coleslaw, mixed leaves, and Caesar salad.  This menu is ideal for events with a varied guest list since there are so many different dishes to choose from.
The guests enjoyed our catering in the sunshine, playing party games and listening to great music. The party lasted well into the evening, as the Hog Roast Llantwit Major team discretely cleared away our catering station and packed away our equipment. The night was a great success and it is definitely something that Sarah will always remember.
Are you looking for a menu that is more formal than this? If so, get in touch with Hog Roast Llantwit Major today to view our whole range of menus and dishes. We have lots to choose from and something to suit every event. We hope to hear from you soon!