Choosing the menu for your wedding can be difficult since it can be hard to cater to a variety of dietary requirements while staying on budget and providing enough for everyone. With weddings set to return in the next few months of 2021, we have created a helpful guide explaining all of our most popular wedding catering options!
Canapes are always a winner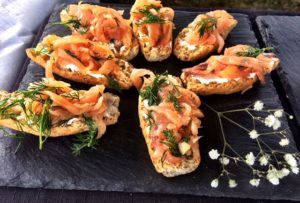 Serving canapes at your reception sets an elegant tone for the day, as well as begin a great way to feed a large number of guests in a short time. Our Hog Roast Risca canapes are served by our waiting team to your guests as they arrive at the reception and we always ensure we have more than enough for everyone to enjoy! We have a large selection of canapes for you to choose from, with popular options being roasted duck, mini fish and chips, roasted halloumi and tomato crostini, pan-seared fillet of beef and smoked Scottish salmon. For our standard wedding package, you can choose five canapes to serve, although we can offer more depending on your party size.
Fresh, locally sourced ingredients
A current wedding trend is offering a menu made from fresh, locally sourced ingredients. Here at Hog Roast Risca, we only use the freshest of ingredients for all of our dishes, including locally sourced meats. Using local ingredients means you need to be mindful of what season you are getting married in. For example, if you are dreaming of a platter of fresh fruits and vegetables, it is better to choose a date in the summer. However, if you are wanting to serve winter vegetables such as pumpkins, a date later in the year will work better.
Desserts that are to die for
Choosing the perfect desserts for your wedding is important. While the wedding cake will be the star of the show, it is always a good idea to choose some other dessert options that will compliment your cake nicely. For example, serving fresh fruit salad with berries and cream can be perfect alongside a delicious sponge wedding cake.
Looking to book your wedding catering with Hog Roast Risca? If so, get in touch today to let us know your date, location and party size. We can then get to work creating your perfect wedding menu!