When it comes to providing a tasty centrepiece hog roast for any kind of party or event, Hog Roast Gwynfe is the number one choice but we're also delighted to offer many more catering options too. Our experienced and highly-trained professionals work hard to cater for our customers and their guests, regardless of the formality or location of the special occasion or the number of guests invited, and this includes by offering a great selection of menus that ensure to give you the choice and variety needed to make your party a great success.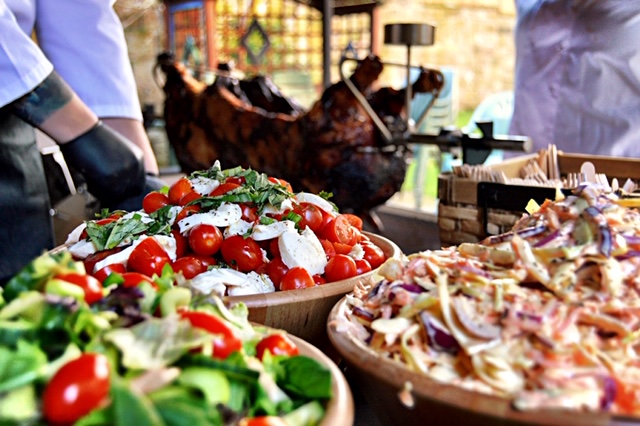 If you'd prefer a spit-roasted meat served, like chicken, turkey, lamb or beef, we can easily do that instead of or as well as a hog roast, and we also offer special standalone menus like our Loaded Fries, where we smother freshly-cooked French fries with your choice of slow-roasted meat and various delicious toppings, or our Southern Slow Roast, which gives you three meats and four sides of your choice. Nevertheless, we also cater for special diets, including vegetarian, vegan, plant-based and gluten-free, and as long as we have advance notice, one of our friendly chefs will rustle up an appetising suitable dish fresh on the day.
Additionally, Hog Roast Gwynfe offers all sorts of supplemental dishes, such as starters, sides, desserts and welcome canapés, so whatever your needs and whatever you have in mind culinary-wise, your party or event will be the talk of the town for a long time to come!
Recently, we were asked to cater a birthday party for seventy guests, where we would cook inside a marquee and fill the surroundings with the amazing aromas only a traditional hog roast can produce. We were also asked to provide various side dishes and a vegan option, so on the day, our dedicated Hog Roast Gwynfe team headed to the venue to set up our equipment and prepare the meat for its roasting.
Later in the day, we made vegan skewers, full of garden-fresh courgette, mushrooms, red onion, baby tomatoes and peppers, prepared sides of coleslaw, tomato and mozzarella salad and jacket potatoes and by 4pm, once we put together the pigs in buns, it was time to serve the hungry guests.