Hog Roast Crugybar is known far and wide as a trusted purveyor of sumptuous traditional centrepiece hog roasts, where we roast great-quality meat for hours on end until we produce tender, moist meat that just melts in your mouth and salty, crispy crackling that makes your heart sing. Together with our homemade delights of apple sauce, sage and onion stuffing and gravy, we make plated meals full of pork, seasonal vegetables and potatoes, and together with our duo of apple sauce and stuffing, we create our version of hog roast rolls – pigs in buns – which we're famous for.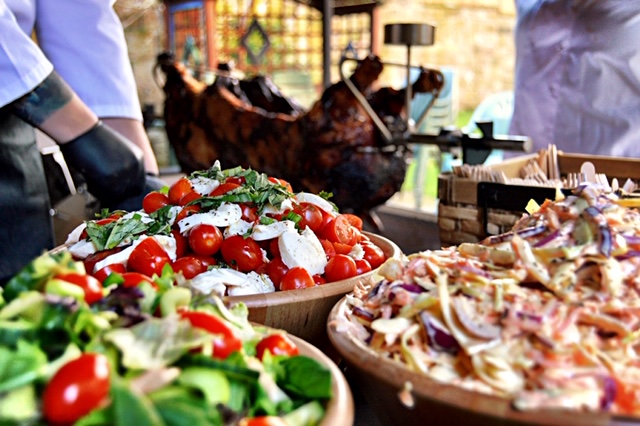 Nevertheless, what you get with Hog Roast Crugybar is not just what you see in our name. While we are suitably proud of our delicious hog roasts, we are just as proud of all the other dishes that we make in order to wow our customers and their guests, and that includes ones that satisfy bigger appetites, varying personal tastes and also all kinds of special diets. Within our menus, which we've perfected over many years of being in business, you'll also find spit roasts, like beef, lamb, chicken and turkey, main course options for non-carnivores like vegetarians and vegans, as well as speciality standalone menus like our Loaded Fries and Southern Slow Roast.
With these extensive menus, however, you'll also find a wealth of additional homemade options, like starters, sides, desserts and canapés – so you could create a multi-course menu, for example, featuring smoked salmon, pigs in buns with spicy sweet potato wedges and coleslaw and a dessert of summer pudding. In fact, this exact menu was actually selected by one of our long-term customers recently for one of her private parties, held at home in her large back garden, and our Hog Roast Crugybar team catered the affair with tasty, fresh food that all seventy guests loved.
On the day of the party, our chef and assistants set up our equipment outside, prepared the hog and then it sizzled away for an age. Late afternoon, we prepared our coleslaw, salmon and dessert, cooked the wedges and carved the hog and finally, after several hours of hard work, it was time to serve.