Dean has a career as a lawyer and recently celebrated a huge win in one of his most recent cases. He decided to invite his close friends and family to a party and hired the Hog Roast Haverfordwest team after hearing some fantastic reviews about them from his friends. He also chose one of the more luxurious Hog Roast menus for the occasion as many of lawyer friends were used to the luxurious lifestyle that success in their profession provided. He hosted the party at his company's base and asked the team to produce a buffet that would suit his guests.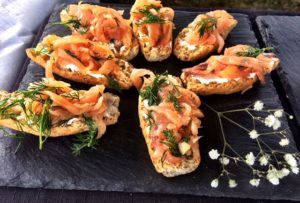 Dean selected Menu Four from the Hog Roast Haverfordwest team's selection. The party began with a selection of canapes which included miniature pizzas, spicy Thai chicken kebabs, Dim Sum, smoked salmon on fresh brown bread and feta skewers. Dean's guests loved the canapes and mingled with some complimentary drinks as they talked about his new success. To serve as the main meal on the buffet, Dean selected a slow roasted sirloin of beef served with horseradish sauce, Yorkshire puddings and homemade red wine gravy, and also slow roasted lamb seasoned with rosemary served with mint and a mustard and dill sauce. Alongside the main meal, the team served a classic Caesar salad, jacket potatoes and warm new potatoes in rosemary and garlic. The team delivered a fantastic service that was friendly and upbeat to help create a great atmosphere and they ensured that they cooked all of the food to perfection.
Finally, the fantastic evening was rounded off with a choice of two puddings including sticky toffee pudding with a classic toffee sauce and fresh fruit salad served with fresh cream and smothering in fruit juices. After the plates had been cleared away by the Hog Roast Haverfordwest team, the waiters served fresh cream tea, coffee and mints to the tables for Dean's staff to enjoy. The Hog Roast Haverfordwest team helped to create a fantastic party for Dean so he could celebrate his party in style. To ensure all the food tasted brilliant, all of the ingredients were prepared fresh onsite.