Although the Hog Roast Swansea team is perfect for huge events and for producing long buffet tables of delicious food, it is also great for smaller and more intimate events with much shorter guest lists. They can still provide a great variety of different meats and sides from their menu despite the small number of guests. This flexibility means the team are perfect for a huge range of different events as they can alter their menus to suit any number of guests. No challenge is too big for the Hog Roast Swansea team and they take pride in delivered a great service to help people to create their perfect event or celebration.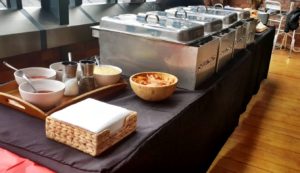 Recently, the Hog Roast Swansea team were hired by Angela for a small scale event for just 14 people. The event was located in Swansea at a local cafe, named Cwn Ivy, that is famous for its beautiful craft work which it sells to local people. The cafe has a fantastic lake side view and is nice and cosy inside for its wonderful customers.
The celebration was a private event in the evening during which the Hog Roast team served a fantastic arrangement of food to Angela's guests. Angela selected the Hog Roast Swansea's Private Party Menu Two, the Southern Slow Roast, which offers a huge variety of different main meals. In addition to the Hog Roast team's flexibility in terms of guest numbers, the team can also adapt their menus to suit preferred tastes or special dietary requirements as well as adding vegetarian options to every menu. Therefore, Angela requested for their pork butt, usually flavoured BBQ, and the whole roast chickens, usually cooked in Cajun spice, to be served plain at her event. Furthermore, Angela's guests also enjoyed Creole pulled quarter of spiced lamb which was cooked perfectly by the Hog Roast team. The service was led by the team's Catering Manager, Cliff, who ensured that all of the food was perfectly cooked and all of the food maintained its quality which was especially important with such a small number of guests. The event was a lovely way for Angela to celebrate with her guests without the chore of cooking herself.