We were catering for an old solider at the weekend with Hog Roast Crynant. His name was Max and what a gentleman he was too! He was having a get together with some of his old army pals and their favourite food is hog roast but they had never tried ours before so we were keen to impress.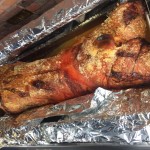 We arrived at his home mid afternoon and he chatted about his army days we are always intrigued at the people we come across when catering some very interesting people and lots that we now consider as friends! He wanted a pig and a pig we brought! A lovely pig we scored the skin rubbed in salt this helps create the perfect cracking. We then peeled and chopped a huge sack of potatoes and cubed the potatoes drizzled them in oil and covered them in herbs and spices we placed some parsnips onto cook and then it was time to make the salads. We make the most amazing salads we sliced up tomatoes, lettuce, cucumber, red peppers, feta cheese and spring onions and placed them in bowls attention to detail is paramount in what we do. Next it was time to make some dips to accompany the Hog Roast Crynant we made a garlic dip, mustard dip and a spicy dip and a tasty dressing for the salads.
Max watched us every step of the way as he was intrigued and he said that the pig was the nicest he had ever seen. When it was time to serve the guys had arrived and they were keen to watch the carving of the Hog Roast Crynant. Our chef removed the crackling cut it in to chunks and the guys had a piece each they said they had never tasted anything like it! They watched as we carved the pork into huge thick slices they said it was so tender and 'melted in their mouths' they said that over seas they had tasted plenty but never as good as ours and we were so happy to hear that. We had a lovely day with the guys a lovely group of guys they were too! We left feeling happy as another job done well.