Here at The Spitting Pig Wales, we've catered so many weddings over the years but there's always something different about each one, something that sets it apart from the rest and makes it even more of an occasion to remember. With this wedding, it had to be the huge balloon!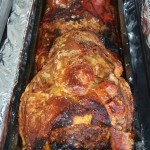 We recently catered a fantastic wedding reception at The Beeches Hotel right on the seafront. Despite the cold and windy weather, it ended up being a great evening at a really lovely venue. We arrived at 6pm with an 8.45pm service in mind, and with the hotel being adjacent to the sea and it blowing a gale outside, we were blown straight in by the wind. The room where the reception was being held was beautifully decorated in white and silver, and there was a huge balloon in the middle of the room. The event organiser was very nice and helpful and the hotel staff put on a terrific buffet to go alongside our scrumptious hog roast.
Our team watched the speeches and then once the room emptied for a time, we set up our equipment. With it being a late food service, we had prepared the tasty hog earlier and would serve the hungry guests plenty of hot pork slices and crunchy crackling, accompanied by apple sauce and stuffing.
By 9.45pm, once our gorgeous roast and the buffet had been devoured, and we had received plenty of compliments about great the food was, it was the end of our service and time for the happy couple to cut their wedding cake. It all went swimmingly well and then we eventually found out what the huge balloon was all about; when the bride and groom had their first dance as man and wife, it popped at the end to reveal lots of smaller balloons inside, which covered the couple like giant confetti! Added to the fireworks and sparklers on the night, this was a certainly a night to remember for the bride and groom and all of their happy guests.
We quietly finished clearing up after ourselves and left everyone to enjoy the rest of the night. By this time it was 10.15pm and a great evening was had by all, including our team.