We were catering for a corporate event mid week with our hog roast Beulah. The company were having a team building exercise at the lake and they wanted us to come and cater for them catering for seventy a small gathering but no job is ever too big or too small in our world. We set off early and it took us a while to find it that's why if ever we are unsure of area we are going to we always leave that bit earlier just in case. We met the company boss and he was going on a tour with the work force and we had a good few hours to cook and prepare the lunch, which was plenty of time.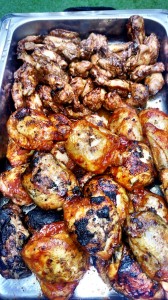 We set up the machine and table and covered our cooking area in a gazebo, as it didn't look too promising with a large cloud over head. We placed a brisket of beef on the machines and some chicken and a nice batch of potatoes to roast- crunchy roast potatoes with a soft and fluffy inside delicious! The meats smelt amazing and we then set out the table wear for the guests along with a large selection of sides. Salad, coleslaw and a poached salmon were prepared along with a creamy dip and lovely mustard dressing.
We could see the party in the distance walking wearily after their long hike and ready for their hog roast Beulah lunch. We carved the meats and the beef was as always so tender and juicy it literally just melts in the mouth. The chicken just fell off the bone so moist and tender and the meats do go a long way in feeding a crowd we placed the meats in huge buns and the guests were very hungry as there was silence as they ate! When they got their energy back they started to chat amongst themselves and the topic of conversation was us! They were saying the hog roast Beulah was 'spectacular', 'amazing' and 'heavenly' (just a few words we overheard). They also came over to us asking how we managed to make such a wonderful spread in a short space of time and saying they hadn't tasted food like it. That really made our day and that is what makes coming to work a pleasure.