It might not seem like it with the damp and blustery weather, but spring has sprung and many holiday parks who close during the winter months are opening up their gates again and getting ready to welcome people for the new season. The owners of a local camping and caravan park in our area, wanted to lure more visitors early on in the season when it is usually pretty quiet, and decided to up the ante by hiring Hog Roast Aberteifi to cater for their opening night in the site's club house.
With a whole evening of family-friendly entertainment lined up, including an Easter egg hunt for the kids, live music and local cider for the adults and a hearty hog roast buffet for everyone, we were looking forward to a fun and lively event. After discussing our extensive range of options with us, the site owners opted for our barbeque style menu, which is still prepared using our traditional hog roast cooking methods, with a selection of meats of your choice marinated in our secret blend of aromatic herbs and spices.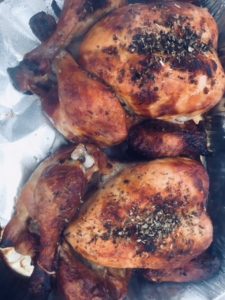 Hog Roast Aberteifi's catering team arrived at the site on the morning of the event to find the clubhouse was already a hive of activity. As we started setting up in the space allocated to us, the site owners remarked how streamlined our equipment was and they were obviously very pleased that we were able to cook everything fresh at the venue without getting in the way of everything else that was going on. The only thing that got mixed up with the rest of the event preparations was the heavenly aroma of our Cajun spiced whole chickens, sweet, sticky ribs and barbeque pulled pork, slowly cooking throughout the day to create an unparalleled depth of flavour.
As the sound tests were taking place and various park employees were scurrying around hiding Easter eggs, our catering assistants were deftly putting the finishing touches to our creamy Memphis style coleslaw, hearty 'mac n cheese' and tender corn cobettes. We worked in perfect tandem with the staff and musicians, ensuring everything was perfectly timed with the arrival of the keen caravaners and their guests. The kids loved getting stuck into the sticky ribs and cobettes, whilst their parents were blown away by the flavour combinations of Hog Roast Aberteifi's own unique take on an all-American feast!