When Spitting Pig Wales caters your corporate event, it may not actually always be in Wales, as we are based all over the UK and we often work in other parts of the country if needed. Just recently, we had the pleasure of catering a corporate event in Gloucestershire's Tewkesbury, providing our traditional, sumptuous pigs in buns for 150 guests.
When Joanne from DF Legal LLP contacted us at Hog Roast Tewkesbury, she wanted to book us for our extremely popular Corporate Hospitality Menu 1, which is a firm favourite of both our large and small business clients. For this event in the lovely riverside town of Tewkesbury, our team would arrive a few hours before service in order to prepare the meat from scratch and then start roasting the hog. When we serve these tasty hog roast rolls, the meat is hot and fresh and ready to be devoured in the form of sandwiches. We pile juicy bits of meat and crispy bits of crackling into floury bread rolls, top with our homemade apple sauce and sage and onion stuffing and let you go wild with the condiments too, if preferred; I like a bit of ketchup on mine!
In case you have any guests with dietary allergies, intolerances or preferences, it's useful to know that we offer all kinds of alternative dishes, as we want all of your guests to enjoy our food. With advance notice, gluten-free guests can eat the same pigs in buns as the rest of the guests, just with gluten-free bread rolls that we can bring along and no one will be the wiser. Plus if you have any vegetarian or vegan guests, we have many options, such as quiche, stuffed vegetables or veggie burgers.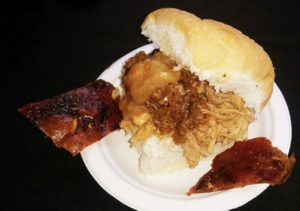 Joanne and DF Legal all clearly loved our tasty hog roast rolls on this particular day, Hog Roast Tewkesbury will always go the extra mile to ensure your corporate party is a great success in terms of delicious, affordable food and excellent service. Contact our friendly sales team and let your next business event feature a stunning centrepiece hog roast that your guests will never forget.