The evening had arrived at last, a room had been booked in the Fox and Hound Pub for Joe's 21st birthday party. Joe didn't want your average disco / party. He wanted it to be an evening of karaoke which he'd loved doing even as a young kid. For his 7th birthday his parents bought him a karaoke machine and he's loved doing it ever since and even does it to earn extra money in local pubs every week.
The whole family love music. His mum and dad were in a group together and his sister went to university to study music and even his is grandfather used to busk and play the banjo. He was well known in St Ishmael and always had a gathering around him at events. His grandfather had promised Joe he would fetch his banjo and do a couple of songs to break the evening up.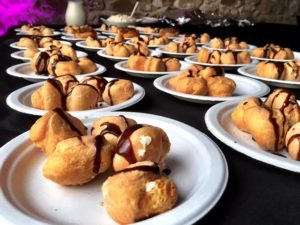 With family and friends there was a guest list of 160 people. Joe's mum had organised the caterers and chose us at Hog Roast St Ishmael to come along and do a buffet. A friend had booked us previously for a wedding anniversary party and everybody thought the food was fantastic (we get most of our bookings though repeat customers and recommendation). Hog Roast St Ishmael had recommended a self- serve buffet for Joe and his guests. A large platter of spit roast chicken sandwiches was prepared with sage and onion stuffing. Beef with horse radish sauce for the second choice of sandwich. Finally potato wedges in cones and a fresh crisp salads accompaniments. Also we provided a tomato and tofu pasta dish for the vegetarians. Chocolate brownies and fresh cream profiteroles smothered in chocolate sauce were chosen as a desert (always a popular choice!).
Everything was prepared fresh on the day by our catering staff and the meats are prepared and cooked by our qualified chefs. We take great care and pride ourselves on the quality of service we provide. Our reputation goes before us and we treat every booking as if it was our own personal one.