While we have plenty of menus for you to choose from and we also encourage our customers to mix and match items or create their own menu, one of the most popular menus Hog Roast Carmarthen serves at private parties, weddings, and corporate events is our flavourful and yet affordable hog roast rolls. We call them pigs in buns ourselves, and our customers love seeing us carving off the crackling and slicing into the meat in order to cram bits of both into fresh, floury bread rolls or wraps, adding our yummy homemade apple sauce and sage and onion stuffing, and topping it all off with a condiment, too, if preferred.
When Lynne asked us to cook a hog roast at Tanylan Farm's The Old Cowshed, it would be with the ultimate goal of feeding her guests some of our tasty pigs in buns. Tanylan Farm offers farm breaks in their holiday cottages and barns, and is located right by Carmarthen Bay. For Lynne's party, we would be feeding around 20 to 25 guests in the grounds of the lovely Old Cowshed, which used to house nearly 50 dairy cows, but now accommodates up to 16 people instead.
In addition to the hog roast rolls, Lynne asked our team at Hog Roast Carmarthen to cook some of our veggie skewers. We have tons of options for any guests with dietary needs, whether it's personal choice or due to an allergy or intolerance, as we want everyone to enjoy our food, whether you're a carnivore or not! We have many vegetarian and vegan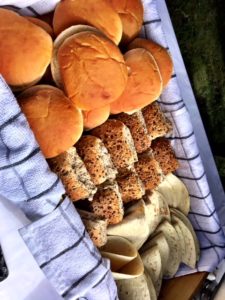 options, like stuffed mushrooms or peppers, quiche, tart, or veggie burgers. Plus we're often asked to cook jacket potatoes or other potato dishes which are cooked separately to the meat, as well as supply lovely, garden-fresh salad dishes, either as extra food for everyone or specifically for veggie guests. No matter your dietary needs, Hog Roast Carmarthen will ensure everyone is well-fed – just give us advance notice and we'll do the rest.
By 7pm at The Old Cowshed, it was time for us to serve Lynne and her guests some truly scrumptious, homemade food.