While many of our Hog Roast Talybont customers go the whole hog and hire us to cater their event or party, you may actually prefer to be more hands-on and cook all by yourself instead. Whether you're planning a birthday party, a business event or a meal for the family in your own back garden, you can easily take the reins with our guidance and cook up a storm that all your guests or customers love. We rent out our hog roast machines to both domestic and professional cooks, with the latter usually hiring them for a one-off event and then going on to hire them more often (once they see how easy they are to use and what kind of tasty food they create). But if you're a domestic cook and you fancy being a hog or spit roast chef for the day, there's no reason why you can't still rent our equipment for whatever special occasion you have in mind.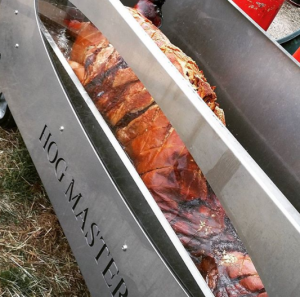 Domestic cook Julien did just that when he contacted us about renting a hog roast machine for the weekend, so that he could roast a pig for his friend's birthday. We dropped it off at his house in Talybont on Friday, as a delivery and collection service is included in the rental price, even if you need it delivered to a particular venue instead of your home. As this was his first time having a DIY hog roast, even though he had enjoyed our catering services in the past too, he asked us to provide the pig, too, which we can always do if you need. You may not know where to source an animal or bird that you'll be cooking, and we have many years of experience with trusted local suppliers, so feel free to ask us about this extra service when you enquire about renting one of our machines.
Julien couldn't believe how simple our machines are to use, and after just a few minutes of us talking him through it, he was more than happy for us to leave him to his own devices. When we collected the machine on Monday, Julien told us that his friend's party was a huge success because of the gorgeous meat he'd roasted for 5 hours and he's decided to treat himself to his own machine to use at home in Talybont whenever he wants!