During the pandemic, it has been proven that COVID-19 transmission is greatly reduced when outdoors. Because of this, it is recommended for events and gatherings to take place outside wherever possible. As the weather has been excellent during the summer, this has definitely not been a problem! In wales, there are no legal restrictions on outdoor gatherings, so weddings are allowed to resume as normal with any number of guests!
Daisy and Jake had planned a beautiful wedding ceremony in their church, surrounded by close friends and family. To ensure social distancing was possible, the guestlist for their ceremony was close and personal, followed by a large outdoor reception. The theme for the wedding was rustic and boho, so it was perfect to have the event take place on a local farm. The fields were beautifully decorated with flowers, plants, large tables, candles, and fairy lights, to create an incredible atmosphere for the reception. For the entertainment, the couple had created a make-shift dancefloor, as well as hiring a DJ for the event. They had also hired Hog Roast Abergavenny to provide our alfresco wedding menu.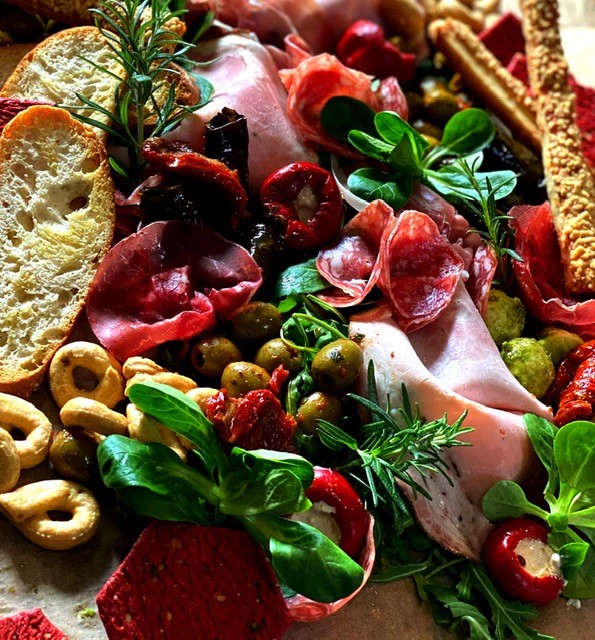 Once the reception began, the guests were shown to their seats by our Hog Roast Abergavenny waiting staff. For the starter, we served our speciality bamboo platters tableside for the guests to share. The platters included freshly sliced meats, gourmet cheeses, breads, dips, and more!
For the main course, we had prepared our famous Hog Roast Abergavenny slow-roasted pig. The pig was accompanied by sage and onion stuffing, crispy crackling, and homemade applesauce. We also provided fresh bread rolls and wraps and seasonal vegetables to create a delicious and hearty meal.
To finish the catering, our team served sticky toffee pudding and cheesecake to the guests, both presented elegantly with fresh fruit and English cream.
Hog Roast Abergavenny can cater for weddings in a number of ways, and no two wedding packages are ever the same! We have over 5 different customisable menus on offer, with something for every guest to enjoy. Simply let us know your party size, date, and location and we can add your date to our dairy!