It's never too late in life to learn a new skill, and at Hog Roast Cynwyl Elfed we offer our customers the chance to take hog roasting into their own hands. As we strive to provide our clients with the best possible experience, our manufacturing team are constantly working behind the scenes to develop our cooking methods and better our equipment which we regularly hire out for events and even sell to those who are looking to take the age-old cooking tradition more seriously.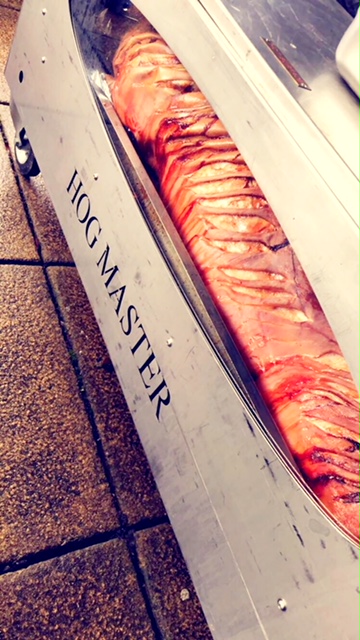 Whether you're an amateur cook whose time spent in the kitchen results in concerned looks from family members or a seasoned chef, our equipment has been specifically designed so that it can be used by anyone. While the right tools are, of course, just one half of the recipe, with skill being the other, we guarantee that after taking part in our training seminars (which are run by in-house experts) you'll be spit roasting pigs like a natural!
When our most recent hog roasting enthusiast, Marcus first got in touch with us, he was keen to hire out a machine for a family event he had planned, and after hearing all about or comprehensive training he couldn't wait to get started. As a novice, the client was apprehensive at first, but after spending a few hours with the Hog Roast Cynwyl Elfed team, his confidence had grown and he was ready to take on the challenge of cooking for his friends and family.
On the day of Marcus's event, the Hog Roast Cynwyl Elfed team delivered his chosen cooking package – which included the Hogmaster machine, along with a medium-sized pig and a gas canister – straight to his door first thing in the morning, at no extra cost. When the team returned to collect the goods the following day, Marcus was thrilled to share how well his party had gone, and how much his guests had loved his cooking – which he joked was something to be celebrated in itself!
The client was so impressed with how effortless the process had been, and he is now looking to take things a step further by purchasing his very own hog roasting machine.