Its officially October and that can only mean one thing… a hog roast Halloween! We at Hog Roast Penarth believe there is nothing that goes better with pumpkins and fancy dress than a delicious hog roast to enjoy the festivities with.
This weekend we were asked to provide a spooky Hog Roast Penarth for Ellen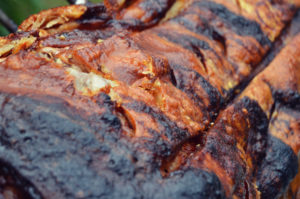 who was hosting a family Halloween party and wanted some theatrical food that would enhance her decorations. We assured her over the phone that we would be up for the job and set about creating the perfect Halloween hog. We prepared layers of crispy cracking by massaging sea salt and water into the skin. We also prepared some seasonal vegetables such as carrots, parsnips and butternut squash that we roast alongside the hog in the same tray which we find really adds some extra flavour. With all this prepared all that was left to do was get into our fancy dress costumes and wait for the party to begin…
When the guests arrived, we were all suitably spooked by their outfits! There were ghosts, scary clowns, witches and even one child came dressed as Donald Trump! Before the food could be served there were the party games to occupy all the children while some of the older kids and adults started watching 'Friday the 13th'.
Finally, it was serving time and the guests were thankful that it was all treats in the form of our Hog Roast Penarth. The hog was devoured right before our eyes and everyone agreed that the food went perfectly with the theme and was just as delicious as it looked. We ended the evening by serving up some of Ellen's own homemade pumpkin pie that she made from carving all of the decorations which, by the reactions of the guests, was delicious. We discretely packed away and just in time as Ellen put on another horror movie…