There's nothing more warming on a cold Autumn day than nice, hot, comfort food, and what could be more comforting than our Hog Roast Milford Haven signature food – deliciously succulent pigs in buns, the meat inside served at the optimum temperature once roasted to perfection? We've spent many years perfecting our pigs in buns, which you may know as hog roast rolls, and we only use the best quality local meat that we source from trusted farmers and butchers.
To make these mouthwatering pieces of heaven, we start by lovingly preparing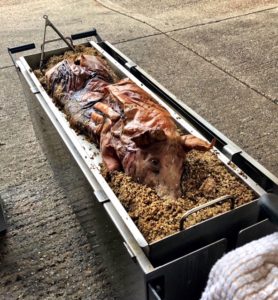 the meat by scoring it all over, adding plenty of water and then smothering all over with salt to make the crackling. Once done, our hog roast machines make light work of the roasting stage, so once we have turned it on and set the temperature, it sizzles away and we just have to occasionally watch over it. After a few hours it's finally done and it then needs a short rest before we carve away and fill trays with both the crackling and insides. By this time, the air is filled with meaty aromas and crowds have usually gathered around to watch the spectacle of us slicing up the beast before cramming bits of the meat and crackling into fresh, soft bread rolls, adding a dollop of our homemade apple sauce and a mound of our homemade sage and onion stuffing, and then we hand over to the impatient, excited hungry mob to devour.
When Hog Roast Milford Haven recently catered a wedding locally, we were asked to cook our pigs in buns for 120 guests, so armed with a huge hog and additional food, we headed to the lovely hotel venue and set up our equipment in the gardens. It was chilly so we were thankful for the hog roast machine warming us, as well as the outdoor heaters, and our team were soon warmed up keeping busy preparing plenty of lovely food for the bride and groom and their guests.
By 5pm, we had prepared a feast of pigs in buns, sweet potato wedges, homemade coleslaw, a tomato and mozzarella salad and veggie skewers, and in true Hog Roast Milford Haven form, we served the crowds until the hog had been stripped clean and everyone had their fill.