It's that time of year again when the mulled wine starts flowing and stalls start popping up everywhere selling artisan food and festive crafts at Christmas markets all over the country. Fresh hot food is a must for customers flocking to the markets and this year, the Hog Roast Narberth team got the chance to make our own contribution to the festive cheer when we were asked to cater for the opening day of one of our local Christmas markets!
As well as the staple Bratwursts and roast chestnuts, the organisers of this market wanted to offer their attendees something that was a cut above to ensure they kept coming back for more.  Some of our premium  slow-roasted pork was their number one choice to lure the crowds and put a smile on everyone's faces!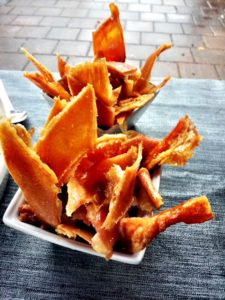 We were very excited to be involved and arrived bright and early to work side by side all the stallholders throughout the morning to make our own preparations to welcome the Christmas crowd. As displays were being prepared and last minute inspections were being made before the gates opened at 4pm, we were busy expertly  slow cooking our succulent pork until it was falling off the bone and ready to be devoured!
Right on cue, our meticulous chef was carving the meat as the market got underway and before long, the street was awash with people eager to find some quirky Christmas presents and share some festive food and drink with their friends and family. It didn't take too long for the smell of our pork to attract a lot of interest and before we knew it, we had a long line of hungry customers keen to sample some of Hog Roast Narberth's signature pork, crunchy cracking and sweet homemade apple sauce!
Everyone loved our hearty food and the atmosphere was very jovial as everyone tucked in, with many people coming back for seconds! As our compact hog roast machines are capable of cooking vast quantities of meat, there was, as always, plenty to go around! The Hog Roast Narberth team received great feedback from the market organisers and they thanked us for helping them to draw in such as large crowd for the opening day!