Over the past ten years the art of hog roasting really has become more and more popular. Not only are more people wanting a Hog Roast Maesteg at their events such as weddings, birthdays and christenings but more and more people are now wanting to try their hand at the cooking process themselves. We have to admit we see the attraction. The ability to cook perfect slow roasted meal and impress your family and friends is not something that most people would want to pass up. That's why here at Hog Roast Maesteg we also rent our amazing hog roasting machines to the public as we believe everyone should be able to try it at least once.
This weekend Hannah and her boyfriend Liam had enquired about hiring the Hogmaster Pro. This is one of our smaller machines but that makes it perfect for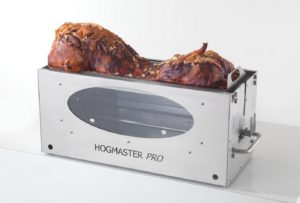 family gatherings and cooking in the home. They had been to some of our hog roast events in the past so knew the potential for delicious food was there, but they didn't have the confidence to cook one themselves. We reassured them that the machine really does do all the hard work for you it's just a case of scoring the meat to make the crackling and then keeping an eye on the temperature for the next couple of hours. They agreed to hire a machine and when we dropped it off we also brought along a selection of meat for them to roast which they were grateful for. We also reminded them that we were only a phone call away should they have any troubles as we really do like to make sure our clients have all the help and advice they need to create a perfect Hog Roast Maesteg.
When our Hog Roast Maesteg team went back to collect the machine we were welcomed by a hog roast feast, Hannah and Liam had spent the week using the Hogmaster to its full ability and had fed all their family and friends. They were delighted with the results and are already in the process of booking out another machine next weekend!