Guests of our customers are sometimes a little confused when they see our catering services miles away from what our name suggests is our base, but Hog Roast Llandrindod Wells often caters outside of our usual area, either at the request of a customer or to cover for another franchise. We're at home anywhere cooking hog and spit roasts or any of our other tasty dishes, whether we're doing so locally or nationally, or even in England instead of Wales!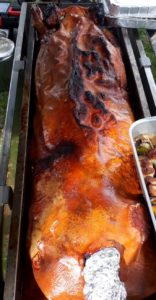 For an event that we catered in Herefordshire's Ledbury recently, Tom from Relish The Great Outdoors Ltd asked us to cook our Menu 1 of hog roast rolls for around 550 people. This is no mean feat but here at Hog Roast Llandrindod Wells, we have the capabilities, experience and the dedicated staff to do this and much more if needed. The event was the Eastnor Castle Mud Bath 2018, run by Relish Running Races, where participants make their way through the muddy trails used to test Land Rovers, as the company's test centre is based there, in the grounds of the gorgeous fairytale castle.
On the day of the Eastnor Castle Mud Bath, our Hog Roast Llandrindod Wells team arrived bright and early, in order to get the pigs roasting away for several hours. There would be more lovely food waiting for the runners and the spectators, from Hedonist Bakery, and Bath Ales would provide plenty of liquid refreshment. Meanwhile, our team members were all busy preparing the meat to be roasted, as we scored the pigs all over, added water and smothered them in salt, set the temperature low on the hog roast machines and in they went, sizzling away for a few hours. It takes a good while to make perfect pigs in buns and you can't ever rush them.
Some hours later, the air filled with meaty aromas from the beautifully-cooked hogs, we sliced hundreds of bread rolls (including some gluten-free ones, as requested), dished up plenty of apple sauce and stuffing, which are both our own homemade delights, and prepared ourselves for the hungry Relish hordes to relish our tasty food!