The search for a wedding caterer can be a difficult one. Will they be able to feed all the guests on time? Will everyone enjoy the food? What about dietary requirements? Well look no further than Hog Roast Brymbo! We can offer you professional wedding catering for any style of event. Whether that's formal wedding breakfasts or light buffets – we can provide it all!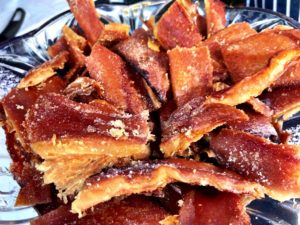 This weekend we catered for the wedding of Joan and Alan. The couple were both in their sixties and had been married before so were looking for a more 'low-key' wedding caterer as they wanted their wedding day to be relaxed with an emphasis on people just enjoying themselves. They had decided a Hog Roast Brymbo would be ideal as they envisioned lots of different stalls for their guests to visit such as a sweetie stall and wine bar and thought a hog roast stall would fit right in, and we had to agree!
The menu for the day would be a simple whole roasted hog served with generous dosing's of our homemade applesauce and scrumptious stuffing, all topped off with lots of crispy crackling and served in a freshly baked roll. We also prepared one of our delicious vegetable tarts and halloumi kebabs for the vegetarian guests and brought along some gluten free bread rolls in case we had any guests with dietary requirements as we don't like anyone to miss out on our Hog Roast Brymbo.
As the happy couple entered the room for the reception, which had been decorated in a lovely rustic way with lots of candles, fairy lights and of course our little food stalls dotted around, they thanked everyone for attending and announced that the wedding 'fair' was open! This was the moment we had been waiting for and we quickly developed a line that snaked around the venue as all the guests were eager for a taste of our Hog Roast Brymbo…