Last Friday we were honoured to be chosen to cater for Billy's retirement party as he was leaving the post office after over fifty years of loyal service! Billy told us when he booked a Hog Roast Brecon for his leaving party that he had joined up as a postie when he was just twenty years old and had loved his job delivering letters to the general public but as he got older he found it harder to keep up and walk the streets especially as the weather started turning. So, although he loved his job and had got to know many of his customers as friends throughout the years he decided as he was now a brilliant seventy years old to pack it in and throw a big party to send him off!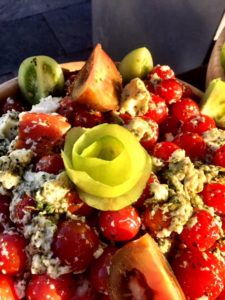 Billy and his employers had invited almost everyone along his route as he had been delivering their mail every day for the past fifty years it was no surprise people would be sad to see him go! We arrived at the venue and set to work preparing a special Hog Roast Brecon for Billy and his friends. We wanted everything to be perfect as he had worked so hard we felt he deserved it! Our chef carefully scored the meat and prepared the vegetable to accompany it. We had to prepare several meats as there were so many guests, so we had a range that included traditional spit roasted hog, Cajun spiced chickens and a lovely side of roast beef so there was something for all tastes.
As serve time approached we had a special request from Billy – he wanted to carve the hog himself and give one more special delivery to all of his friends, a Hog Roast Brecon. We thought this was a lovely gesture and gave him a quick crash course in carving but assured him that as our meat is so tenderly cooked it mostly falls off the bone anyway, so he would have no trouble. Billy happy served his guests and everyone raised a glass to their favourite postman!