Last week we had the privilege of catering for a great group of ladies who had formed a local mother and baby group. They had helped each other through their pregnancies and still met up regularly with their new borns to have a giggle and give each other some moral support. They all decided they deserved a treat and a day off and they wanted to do something special to celebrate their friendship. They decided to leave the parenting duties to their other halves for the day and get together for some great food and a couple of glasses of wine and they thought there was no better way of doing that than by asking Hog Roast Aberdare to cater for them!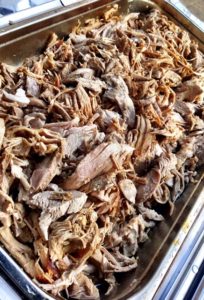 They still wanted to host their party in the community centre they meet in every week, only this time the room wouldn't be full of buggies and babies! After doing some research they found out that we can prepare restaurant quality food in any location and without further ado, hired us to do the honours! They opted for our succulent sirloin of beef, rather than a traditional hog roast, served with our rich red wine gravy, creamy horseradish sauce, roast potatoes and of course, Yorkshire puddings! The tired new mums thought this was exactly the treat they needed and they couldn't wait to try our food!
After our talented Hog Roast Aberdare team had spent the morning cooking, the ladies arrived at 2pm, glammed up, baby-free for the day and eager to get stuck into our blushing, slow-roasted beef with all the trimmings! Everyone had a lovely time and it was great to see the ladies relaxing for once. Here at Hog Roast Aberdare, we love being able to cook in locations that mean a lot to people and  treat our diners to some 5 star food while we're at it!
The tired mums all agreed it was just what they needed, and they decided they are going  to do it more regularly. They thanked Hog Roast Aberdare for giving them such great food and they said they will definitely be hiring us again for their next mums-only event!