It's end of 2018 and here at Hog Roast Llandrindod Wells we been preparing for the last month to deliver even more impressive catering experiences for small parties wanting to celebrate their favourite soccer team winning an important match or a huge staff office party for hundreds of  hungry mouths.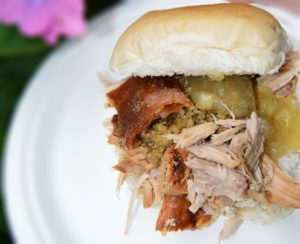 Nicholas is a huge fan of pork, but his absolute favourite was always pulled pork, especially in a sandwich and he states that the best one he has ever tasted was from his birthday party last December which Hog Roast Llandrindod Wells catered for! After a year of Nicholas patiently waiting he can now experience it once more, and just like last time it was in his backyard, Nicholas was worried there wouldn't be enough food as his friends invited twice as many of their friends this time to taste the delicious pork they had last time, but here at Hog Roast Llandrindod Wells we always make sure you have plenty of food. He also enjoyed our selection of breads and salads as well, which he said were so fresh, he was very happy with how professional we were and how we were always happy to help with any requests.
Nicholas has recommended our services to all of his friends and colleagues from work and many of them are now thanking him for telling them about such a great catering firm and are inviting him for their parties all the time!