If you have read through our website and blogs, you will see that here at Hog Roast Cardiff we simply love to cater for weddings! We have an extensive wedding menu which can easily be tailored to suit the needs of you and your guests. In the past we have provided catering at traditional church weddings, intimate family gatherings, beach weddings and even the more elaborate weddings for up to a thousand guests! Hog Roast Cardiff and our team of expert chefs and professional waiters will be able to cater the wedding of your dreams.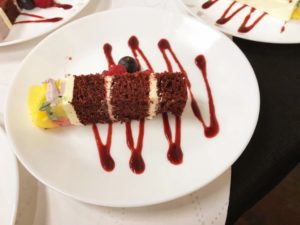 This Saturday we were up bright and early to set off to our first event. Katie and Daniel had been planning their wedding for almost two years now and so anticipation was running high to see everything come together for the big day. They had asked our Hog Roast Cardiff chef to prepare our classic wedding menu which includes welcome canapes and drinks service, followed by a traditional Hog Roast Cardiff roast and then culminating in our waiters serving the wedding cake. This was sure to be a fantastic day, so we all worked hard to make sure everything was running smoothly.
As we arrived on site, we were taken aback at the couple's venue. Despite being a chilly January morning, the barn conversion that was the reception venue was so warm and cosy and romantic looking thanks to the decorating team who had adorned the place with hundreds of candles and fairy lights. We could see now how our Hog Roast Cardiff would fit right in and Daniel had requested that we spit roast the meat on site which we felt would really add to the lovely atmosphere inside.
After the ceremony the guests all arrived promptly at the barn and we welcomed them with the fantastic aroma of our hog roast cooking away. Our team got to work handing out the canapes and drinks whilst we congratulated the happy couple. Then we turned our attention to serving up a delicious slow roasted meal to remember…