Hog Roast Llandovery's latest clients originally booked their event in with the team back in January, before the Covid crisis. But they got back in contact with the team a few weeks ago to go over their plans for the day and altered them slightly to make it safer for all their guests. The Hog Roast Llandovery team was only too glad to alter the plans to fit their client's needs.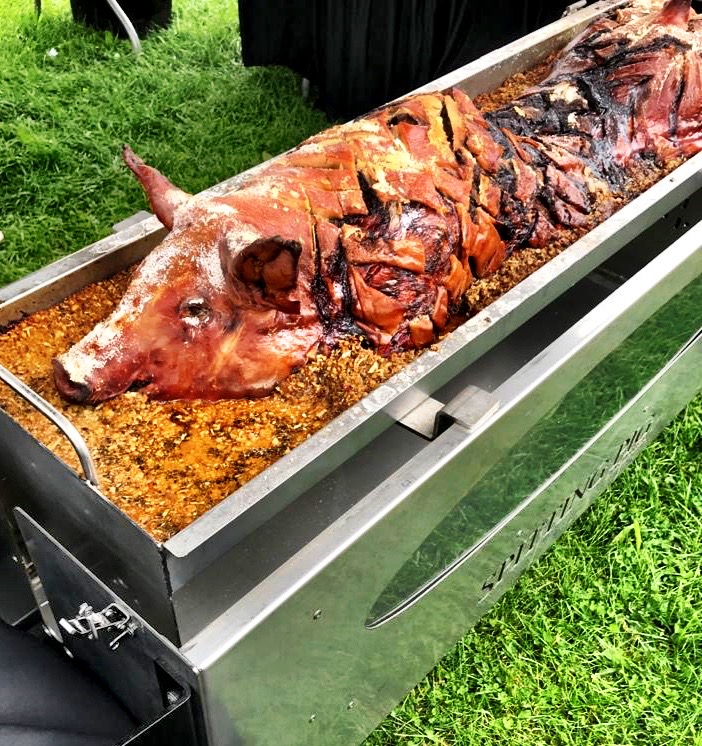 Instead of a regular party, where a Catering Manager would remain on site to cook and help to serve the buffet, the clients instead altered the plan so that the team would prepare the food off site and deliver it. It would then be immediately served by the clients.
The buffet was created by hand at the Hog Roast Llandovery kitchens by the Catering Manager before the 6pm drop off time. Every dish was prepared fresh and once it was cooked the dishes were packed into large foil transport trays, so that when the food arrived at the clients house the food was still hot and ready to be eaten straight away.
The menu for the party of 15 family members was very simple. The main dish was the Classic Hog Roast. A pig was slowly spit roasted by the Catering Manager and once it had been scored and sizzled to perfection it was carved and put into the transportation trays. Alongside this pig there was crispy crackling, homemade sage and onion stuffing and delicious apple sauce. Other dishes that were prepared and packed for the clients included perfectly grilled vegetable wraps with an assortment of dips, a large container of mixed sweet potato and regular potato fries and finally, lots of soft gluten free rolls.
These hot trays were delivered to the client at 4pm on the dot. As well as delivering the food, the Hog Roast Llandovery team delivered enough disposable paper plates and plastic crockery for the guests at the buffet to use.
The clients were thrilled by the buffet the team dropped off. It was everything they had wanted it to be.