Hog Roast Kington's latest clients were grandparents Marcia and Sam, these two loving people wanted a very special Halloween party for their 8 grandchildren. They were initially hesitant about contacting the team, wondering if the team would cater such an intimate event, but the team put their minds at ease. Hog Roast Kington caters for all sizes of events, from guest lists of just a few to a few hundred.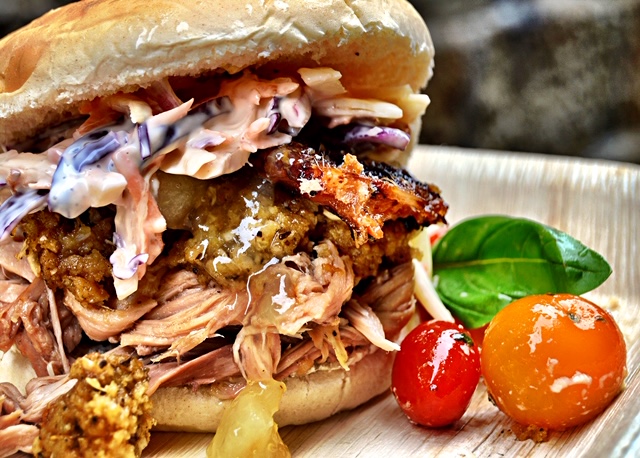 Due to the age of the attendees (varying in ages between 5 and 15 years) and a few health conditions the clients selected to have their buffet prepared off site and delivered by the team. Hog Roast Kington's new Gourmet Delivery service was exactly what they wanted.
Every dish for the buffet was created at the Kington kitchen by Catering Manager Leann, she worked tirelessly to put together the finest buffet. When 6pm slowly started to roll around she loaded up the van with the perfectly prepared platters. All the food was put into a sturdy container/tray so that it would arrive at the client's home ready to be served and eaten straight away.
Amongst the dishes there was a delicious Classic Hog Roast, which was a slow spit roasted pig served with crispy crackling, homemade sage and onion stuffing and apple sauce. For the younger guests at the event Chef Leann also cooked some tasty sausages, and those along with the large basket of soft bread buns meant that the kids could make hot dogs if they wished. Also included in the large platters of buffet food was a mountain of piping hot chips, these were a mix of regular potato and sweet potatoes and they were loaded with melted cheese and little bits of pulled pork from the Hog Roast. Finishing off the buffet there was a hearty tomato pasta salad.
When Leann from the Hog Roast Kington team dropped off the buffet clients Marcia and Sam were thrilled. The food was piping hot and ready to be enjoyed! The clients were also supplied with disposable crockery and cutlery for their grandchildren to use as part of the catering package. It was a great success.