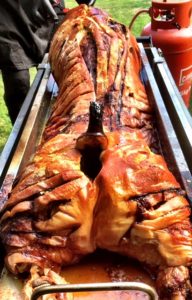 In the last five years, the number of hog roast Milford Haven catering has shot up, so that we have equipped ourselves with about 10 spit roasting machines. They are both big and small machines, to match up to your demands. Our forte is that we can roast pigs as bulky as 200lbs. You get a chance to get pick off a choice of Welsh farm bred pigs such as Tamworths and Berkshires. The Welsh like their food locally sourced and fresh, and we cater to their taste to the tee.
Our chef has a large selection of marinations and seasoning for the hog roast. Our recommendation for hog roast Milford Haven style is to go Mediterranean. You just cannot go wrong with a blend of herbs, garlic, lemon juice and olive oil. Our repeat customers also think highly of our other seasonings. The popular seasoning is the one with ingredients like crushed garlic, lemon juice, wine vinegar, black pepper, salt and olive oil. In the meantime, those who do not relish the idea of eating pork, can look forward to an assortment of meats such as chicken, veal, venison, lamb and turkey. We have a selection of vegetarian dishes such as crisps and pickles, cheese and pineapples, corn on the cob, green salads, mushroom quiches, onion rings and mini Scotch eggs. When you scroll our menu for hog roast Milford Haven you shall also have plenty of choice in side dishes such as chicken drumsticks, corned beef pasties, sausage rolls and lamb-filled vol au vents.
Hog Roast Milford Haven – Leaders In Our Field
Our other boasting point when we offer our hog roast hire Milford Haven is that we know the difference that good bread can make at a hog roast. We make sure we put freshly baked ciabatta rolls on the table, a deliciously tangy home-made apple sauce and rocket leaves. Since the Welsh love their desserts, we have an impressive range of them from the traditional moist fruit cake, Teisen Lap, and a delectable honey cake or Teisen Mêl to a cinnamon cake called Tease Sinamon. Our prices and quotes are customized to the hilt. And, additionally we are open to sharing our various food hygiene certificates of food handling, CE approval and public liability insurance with you because we want you to be assured that we do not take chances with food.
So if you are throwing a party in this small town in the Welsh Riviera and looking for the best, book us for some va va voom.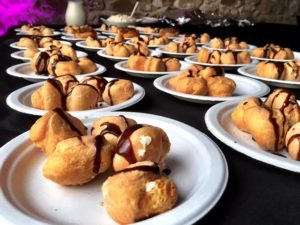 A small town, Milford Haven was intended by its founder to be a whaling centre but somewhere along the way became the Royal Navy dockyard. Of course the winds of change do not leave any place and any thing untouched, because in 1814 the dockyard was shifted from Milford Haven. It was its turn therefore to transform into a commercial dock. Today, the town that is situated on the north side of the Milford Haven Waterway and named after it, is one of the most important places in the United Kingdom in the energy sector. Interestingly enough, Milford Haven is a part of a county furthest from the English border, yet it is referred to as Little England Beyond Wales because a very small portion of its community can speak Welsh. English is the predominant language spoken by the people of Milford Haven. Found in 1790 by Sir William Hamilton, the natural harbour formed by the Milford Haven Waterway made way for it to be deemed a safe port. As a result the town of Milford Haven, which was built on a grid pattern, has been the ground for many a military operation. Bite this: From Henry II's invasion of Ireland in 1171 to Henry VII's landing on the Milford Haven Waterway before marching on England and then again, Oliver Cromwell's attack on Ireland in 1649, Milford Haven has been the site of plenty drama.
During the Second World War, the town housed roughly 1,000 allied American troops but miraculously escaped bombing even though it was known for its fishing industry, military personnel and mines depot. It is this sense of drama that the history of Milford Haven is steeped in that makes way for the kind of culinary drama that a hog roast calls for. Our professional hog roast hire Milford Haven services focus on playing up the element of drama that goes naturally with the ethos and history of this small town.