Early last week we headed west to cater for a regular of ours David. David has a lovely farmhouse in a remote village. He runs a fishing club and every few months he has us there catering for the keen anglers. When we arrived we had a little chat with David then he set off to the lake leaving us to cook.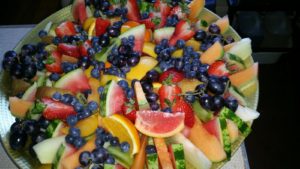 We at Hog Roast Silian know just what these guys love and it's our lamb they adore! So a lovely piece of lamb was placed on the machine to slow cook until tender and our first class machines do just that. We then made our amazing mint sauce we take such pride in our sauces and with over thirty years experience we have it perfected. We made a large bowl of salad using lots of fresh salad vegetables and drizzled the salad in a nice tangy dressing. We then took some sweet potatoes and cut them into wedges and coated them in oil and sprinkled them in spices these cook beautifully on the machine soft and tender inside and crispy on the outer side. And pride of place in the centre of the table we placed a wonderful large dressed smoked salmon! David loves salmon too and it was a beautiful fresh fish.
When the party arrived back we were ready to serve the Hog Roast Silian. They all said as they were driving back they could smell the lamb driving up the road and they said they couldn't wait to eat, as they were so hungry. The lamb just fell apart so tender and moist and full of goodness our machines seal the flavour of the meat. The guys filled buns and drizzled on the mint sauce and the salmon was a real talking point as they were all saying they wished they had caught a one as big! The guys thoroughly enjoyed the Hog Roast Silian food and they filled their plates high as we left they thanked us and said they couldn't wait to see us again after the next fishing expedition and knowing David like we do that won't be long at all.