When it comes to birthday party catering, buffets are the most common choice. They provide a lot of variation for your guests, ensuring there is a dish for everyone to enjoy, while also being an efficient and cost-effective way to feed a large number of guests. If you are considering hiring Hog Roast Builth Wells to cater for your birthday buffet, here is what you can expect…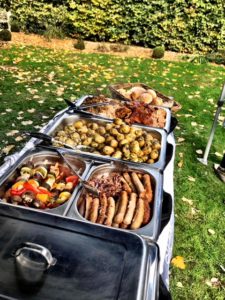 The first stage of buffet catering is choosing the menu and dishes that are right for you. We have a huge selection to choose from, ranging from our classic Hog Roast Builth Wells pig to our Southern Slow Roast or BBQ menu. Each of our menus are fully customisable to ensure that you get the most out of your catering.
On the day of the party, we will arrive well in advance to ensure that we have plenty of time to cook and prepare every dish on-site, including your slow-roasted meat. This usually means around 6 hours of prep time, although this can vary based on the dishes you have chosen. We prepare every dish on-site to ensure maximum flavour and freshness.
Once your guests are ready to eat, we begin serving our delicious dishes. Your guests can choose their main course, side dishes, and salad options from what we have available, which gives everyone the freedom to choose what they want to eat. We also cater to a variety of food allergies and intolerances to ensure that every guest can enjoy our catering.
Depending on the menu you have chosen, your main course may be followed by a selection of delicious desserts. Some of our most popular options include cheesecake, fresh fruit salad, sticky toffee pudding and profiteroles.
Buffets aren't the only catering style that Hog Roast Builth Wells can provide! We also offer formal sit-down dining and alfresco catering, which is a combination of a buffet and table service. Whichever catering style is right for you, get in touch today to book in with our team. Simply let us know your party size, date and location and we can begin to plan your perfect menu.