Making the choice to start a franchise is a big decision that has the potential to be life changing! Not only will you become your own boss, but you also have the freedom and flexibility to make career choices that are right for you. Whether you have owned a catering business before, or you're looking to take a leap into something new, a Hog Roast Overton-on-Dee franchise is a great choice to make.
The perfect amount of freedom
Starting a Hog Roast Overton-on-Dee franchise gives you the perfect amount of freedom. You are in charge of your business, but you can also benefit from the expert advice that we have to offer. We provide extensive training to help you get started and offer advice on all the best tools and equipment to boost your business. We are also on hand at every step of the way to help with any issues that may arise, including help with scheduling, ingredients and more.
Flexibility is key
Having a Hog Roast Overton-on-Dee franchise gives you well-needed flexibility. You can decide when you work, choosing your own hours and working schedules. This means you can do as many or as few catering jobs as you choose. It is important to find the right work/life balance that works for you, and a franchise lets you do exactly that! As a result, it is a perfect opportunity for many lifestyles, including those with families and children.
You're in charge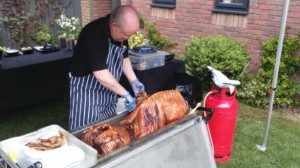 As your own boss, you're in charge! This makes a big difference from working for somebody else, since you have no one to answer to except yourself. This can be the push you need to reach your full potential, motivating yourself to achieve even more and be the best you can be!
If a Hog Roast Overton-on-Dee franchise sounds right for you, get in touch today to find out more information. We are more than happy to answer any questions you may have, and let you know what to expect from starting your own franchise.